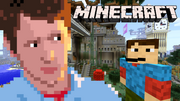 Welcome to the content page. You will find a bunch of great stuff on the Scottland Minecraft server Wiki such as funny jokes, animated GIFS, comical pictures and much more! You can also catch up on the latest posts by Zack Scott himself, and all of the Scottland players. You can also watch the Let's Plays that Zack Scott and the other server members do here.
Ad blocker interference detected!
Wikia is a free-to-use site that makes money from advertising. We have a modified experience for viewers using ad blockers

Wikia is not accessible if you've made further modifications. Remove the custom ad blocker rule(s) and the page will load as expected.