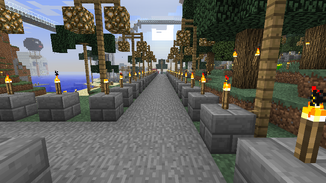 Trails are a main focus point in the spawn-region of Scottland. The trails have gone under a few updates throughout the current minecraft series. A major update for the trails of Scottland was the addition on lamp posts and the replacement of cobblestone with stone bricks. The trails connect spawn to various other attractions near spawn. Scottland players often connects sub-trails to their area. Zack Scott has a firm say on the layout of trails and is often very OCD about the width and placement of lamp posts. Zack often paces along the trails. He especially likes to jump from one trail block to another.
Gallery
Ad blocker interference detected!
Wikia is a free-to-use site that makes money from advertising. We have a modified experience for viewers using ad blockers

Wikia is not accessible if you've made further modifications. Remove the custom ad blocker rule(s) and the page will load as expected.