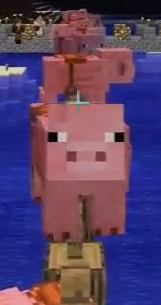 The Pig Bridge is a quick way to get from the bridge near the Arena to the bridge near the Space Needle. It's supposedly faster than flying in creative mode but usually it's slow because the pigs turn their heads when you go across, making It harder to get to the next pig.
Ad blocker interference detected!
Wikia is a free-to-use site that makes money from advertising. We have a modified experience for viewers using ad blockers

Wikia is not accessible if you've made further modifications. Remove the custom ad blocker rule(s) and the page will load as expected.