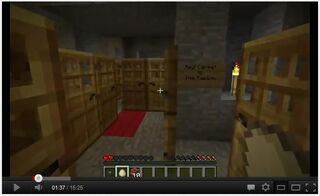 The Great Scottland Door Infestation
occurs in
Episode 394 - Breaking All the Rules
, in conjunction with
The Great Scottland Squid Infestation
.
In the beginning of the episode Zack notices a trail of doors just outside the Gay Bathhouse. Leaving, he finds that the entire Lobby area has been filled with doors.
Brett reveals that he was the one to place the doors, stating that "Someone on the wiki said that spawn didn't have enough doors."
Ad blocker interference detected!
Wikia is a free-to-use site that makes money from advertising. We have a modified experience for viewers using ad blockers

Wikia is not accessible if you've made further modifications. Remove the custom ad blocker rule(s) and the page will load as expected.