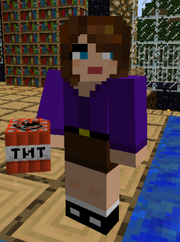 TNT
is
Mac
's favorite block, greifing tool, and weapon. With TNT, she has blown up many buildings, including
Zack
's house, and has tried to blow up other parts of
Scottland
.
Mac obtained many stacks of TNT by using the piston duplication glitch. Since the dupe machine, almost every player on the server has at least a stack of TNT. However, having access to Creative mode, she now has unlimited access to TNT and other blocks.
One such example of Mac using TNT: Episode 304 - STOP MAC! Interactive video
The Bed Stealer has guns in the Battle Bed that fire TNT. Mwa-ha!
Ad blocker interference detected!
Wikia is a free-to-use site that makes money from advertising. We have a modified experience for viewers using ad blockers

Wikia is not accessible if you've made further modifications. Remove the custom ad blocker rule(s) and the page will load as expected.