Shayded



Name:

Keaden and Casey

Gender:

Keaden - Male / Casey - Female

Status:

Active and adorable

First Appearance:

Episode 426 - Youngest New Member
Shayded or Casey was first introduced as a two year old named Keaden in Episode 426. Shayded is the mother of Keaden.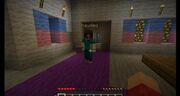 Keaden, like every tyke superstar, has an affection for blowing things up with TNT. After viewing many Zack Scott videos, he noticed a pattern: following Mac blowing something up with TNT, Zack would tend to yell "MAC!" Keaden strives to be the best, and followed his example ten-fold.
Trivia
Keaden is actually Mac's number 1 fan; subsequently, Mac is also his number 1 fan
Quotes
"It's a white baby."
"HI ZACK!"
"HI ADAM!"
"Tallman!" (in response to who blew up spawn)
"Yeah!" (when blowing up spawn)
Ad blocker interference detected!
Wikia is a free-to-use site that makes money from advertising. We have a modified experience for viewers using ad blockers

Wikia is not accessible if you've made further modifications. Remove the custom ad blocker rule(s) and the page will load as expected.