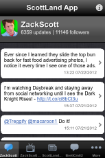 [1]It is an app inside safari that has Zack's Twitter feed, his ZackScottGames Video Feed and most of the players in scottland's twitter.
By Binh Do
It can be viewed using safari on your iphone and ipod. (Requires Internet or a data plan)
Ad blocker interference detected!
Wikia is a free-to-use site that makes money from advertising. We have a modified experience for viewers using ad blockers

Wikia is not accessible if you've made further modifications. Remove the custom ad blocker rule(s) and the page will load as expected.