Mmp2011



Name

Mmp, Michaela

Gender

Female

Status

Active

YouTube:
Mmp2011 is a member of Scottland.
She is notable for being one of Spintown's slaves, along with Crazykickasskate, Padennn, sicknessxo, and heytallman . She knows Zack from bNoid's Werewolf forums. In the first episodes she appeared in, she was not introduced, causing fans in the comments to repeatedly ask who she was.
Mmp2011 has created a beautiful beach side housing estate with pixel art, pool houses and landmarks such as a lighthouse and a bridge. She also made lots of Doctor Who pixel art, such as the Tardis
Quotes
"I'm mmp goddammit!"
"EEEEP!"
"I'm not a hoe!"
"I am forever #1 slave." - on Spintown's recent video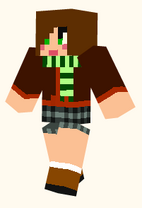 Mmp's Buildings
Ad blocker interference detected!
Wikia is a free-to-use site that makes money from advertising. We have a modified experience for viewers using ad blockers

Wikia is not accessible if you've made further modifications. Remove the custom ad blocker rule(s) and the page will load as expected.