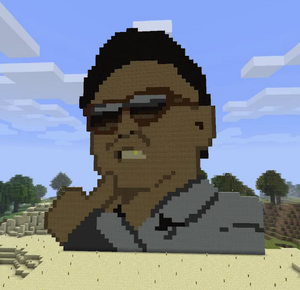 In Episode 338 of Minecraft on the Zack Scott Games Channel, Scottland remembers
Kim Jong Il,
the dictator of
North Korea
the day after his death by having a pixel art of his head constructed. The video also involved blowing up the head and having
SwimmingBird941
pose as Kim Jong-Il being revived.
In the comments of that video, people say they want more dictators to be pixellated, including Gadhafi & Osama Bin Laden.
Evilmacaroon, Brettcm82 & AshleySmash changed their skins to look like mourning North-Koreans and SwimmingBird941 posed as the spirit of Kim Jong-Il.
Trivia
Although the Kim Jong Il sculpture is clamied to be made by SwimmingBird941, it is actually made by the Jews, as stated by Brettcm82