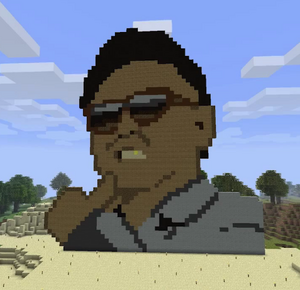 In Episode 338 of Minecraft on the Zack Scott Games Channel, Scottland remembers
Kim Jong Il,
the dictator of
North Korea
the day after his death by having a pixel art of his head constructed. The video also involved blowing up the head and having
SwimmingBird941
pose as Kim Jong-Il being revived.
In the comments of that video, people say they want more dictators to be pixellated, including Gadhafi & Osama Bin Laden.
Evilmacaroon, Brettcm82 & AshleySmash changed their skins to look like mourning North-Koreans and SwimmingBird941 posed as the spirit of Kim Jong-Il.
Trivia
Although the Kim Jong Il sculpture is clamied to be made by SwimmingBird941, it is actually made by the Jews, as stated by Brettcm82
Ad blocker interference detected!
Wikia is a free-to-use site that makes money from advertising. We have a modified experience for viewers using ad blockers

Wikia is not accessible if you've made further modifications. Remove the custom ad blocker rule(s) and the page will load as expected.