Hippid's Pub



Status

Abandoned

Coordinates

X:397,Y:74,Z:-651

First Appearance

Episode 190 - Hippid's Pub

Builders
Hippid's Pub, otherwise known as "Martini's Pub", is a fairly small building in the center of Hippid's area, which she refers to as "King's Creek"
ZackScott visited Hippid's Pub in Minecraft Episode 190 and showed that Hippid's area is actually quite close to where his house was at the time.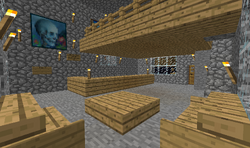 Ad blocker interference detected!
Wikia is a free-to-use site that makes money from advertising. We have a modified experience for viewers using ad blockers

Wikia is not accessible if you've made further modifications. Remove the custom ad blocker rule(s) and the page will load as expected.