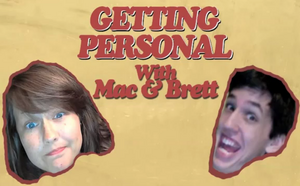 Getting Personal With Mac & Brett is an ongoing YouTube series hosted by Scottland members evilmacaroon and brettcm82.
It currently has a total of 7 Episodes. In the show, Mac and Brett call a random person off of Brett's Skype contact list, and then the person they are speaking to asks a question (a personal question) and then Mac and Brett answer it for them.
A 2 hour long special of Getting Personal was filmed on the Scottland Podcast livestream. It is currently being editted by Brett. Mac and Brett have described it as a series finale. They both hope to move onto a new series where they review things. It is rumored that Brett will review 'walls' in the first episode.
The videos are uploaded to Brett's YouTube channel:
Ad blocker interference detected!
Wikia is a free-to-use site that makes money from advertising. We have a modified experience for viewers using ad blockers

Wikia is not accessible if you've made further modifications. Remove the custom ad blocker rule(s) and the page will load as expected.