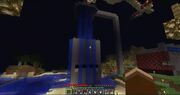 Adam's Shower was built to keep the Testificate clean. Adam knows hygiene is important for nerds, so they should keep clean or else they'll lose friends.
The shower got an upgrade with Adam's addition of a redstone clock to make the shower look more realistic.
The video showcasing this monument was on Adam's channel. The whole video was recorded with him being in the shower.
Ad blocker interference detected!
Wikia is a free-to-use site that makes money from advertising. We have a modified experience for viewers using ad blockers

Wikia is not accessible if you've made further modifications. Remove the custom ad blocker rule(s) and the page will load as expected.