Accidental Skrillex is the name of the one year celebration statue made by Adam, with minor consultation from other members. It is the Magnum Opus of Scottland.
The statue is a pixel art of the fusion of several players on Scottland saying "Kill me".
If you have ever imagined all the members having sex then having a baby, this is the pixel art for you.
Body parts

Beside the pixel art it says "1 Year" written in random blocks. It also has a hunch-back.
The Accidental Skrillex has been recently taken down for unknown reasons. Zack has not mentioned the Accidental Skrillex in another video since then, but had previously expressed a desire to remove the pixel art.
It is now located in Tallmans area.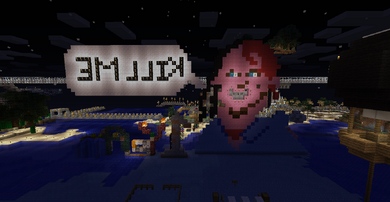 Ad blocker interference detected!
Wikia is a free-to-use site that makes money from advertising. We have a modified experience for viewers using ad blockers

Wikia is not accessible if you've made further modifications. Remove the custom ad blocker rule(s) and the page will load as expected.